Isuzu NPR
There's an Isuzu truck for virtually any medium-duty need.
---
Isuzu NPR trucks provide you with the features you need to help drive up productivity while driving down your cost of ownership. Our engines are legendary for their power, economy and long life. Our frames accommodate a wide range of body applications. Our low-cab-forward design provides remarkable maneuverability and visibility.
So whether you are a small business operator with a single vehicle or you manage an entire fleet, you need trucks that will do more while costing less to operate — and at Isuzu, that's the only kind of trucks we sell.
---
Multi-Information Display (MID)
Nestled in the instrument cluster of every Isuzu N-Series diesel truck is a new means of monitoring vehicle performance and reducing maintenance costs and downtime — the Multi-Information Display (MID).
Isuzu offers an MID that alerts drivers to conditions far beyond the scope of typical gauges and warning lights. With the touch of a button, the MID alerts drivers to the status of over a dozen functions:
Basic Maintenance
All basic maintenance checks can be performed without having to tilt the cab:
– The hydraulic brake fluid reservoir and windshield washer fluid container are easily accessible within the cab.
– Fuses are within easy reach and line of site of the driver.

– The truck's engine oil and fuel level can be checked from inside of the cab.
– Diesel Exhaust Fluid (DEF) Level
– Engine Oil & Filter Reminder
– Tire Rotation Reminder
– Fuel Economy Average
– Current Time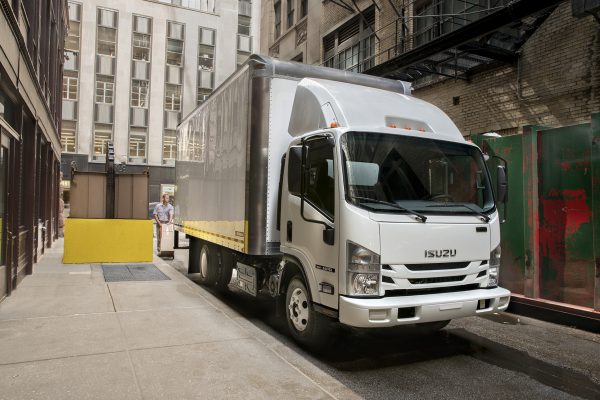 ---
Seating for 3-7 People
Every Isuzu N-Series truck offers three-across seating with ample head, leg and shoulder room. Crew Cab models accommodate an additional four passengers in back. The center front passenger seat features a fold-down work station that is convenient for both the driver and passenger. Pockets in the doors, seat backs, and overhead storage provide convenient places to stow paperwork.
---
NPR Specifications